Donald Stevens started playing bass in bands at the age of 13. Since then he has played on several gospel recordings with The Edwin Hawkins Tri State Mass Choir, Teddy Johnson, Gabriel Hardeman Delegation, Randall Cunningham and C.A.U.S.E., and  Michelle Bonilla. He also played bass on "Who Is Jill Scott". That's him groovin' the bass line on" Long Walk" and "Show Me". He also played bass on "Fanatic" from Vivian Green's "Love Story" CD. He got to play and sing on Miles Jaye's CD "Odyssey".Donald is a founding member and bassist for Philly and Jersey's own jazz quintet "D-For". In 1995 this group of seasoned musicians got together to jam and toss around some musical ideas. Within a few months they realized that they had come upon something special and began to develop a sound that was uniquely their own. As individuals, the members of D-FOR have played or recorded with a veritable who's who of the music industry. This list of artists includes Gerald Veasley, Jill Scott, Floetry, The Roots, Yolanda Adams, BeBe Winans, Mary J. Blige, Kirk Franklin, The Winans, Vivian Green, Hezehiah Walker, Michael Brecker, Pieces of a Dream, Randy Brecker, The Gabriel Hardeman Delegation, Miles Jaye and a host of others.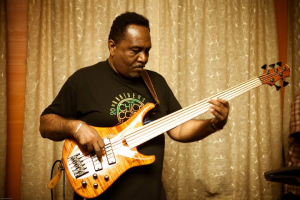 Excerpt from cduniverse:
WHO IS JILL SCOTT? WORDS AND SOUNDS VOL. 1 was nominated for the 2001 Grammy Award for Best R&B Album, Jill Scott was nominated for Best New Artist and "Gettin' In The Way" was nominated for Best Female R&B Vocal Performance.

"A Long Walk" was nominated for the 2002 Grammy Award for Best Female R&B Vocal Performance…

Personnel: Jill Scott (vocals); Larry Gold (conductor, cello); Scratch (vocals, turntables); Black Thought (vocals); Eric Seals (acoustic guitar); Chris Odum, Jeff Lee Johnson (guitar); Igor Szwec, Emma Kummrow, Gregory Teperman, Charles Parker (violin); Davis Barnett, Peter Nocello (viola); Jafar Barron (trumpet); Jeff Bradshaw (trombone); Ted Thomas Jr. (keyboards, bass, drums, percussion); Keith Pelzer (keyboards, synthesizer); Andre Harris (keyboards, drums); Patrick Sean McClain, James Poyser, Pete Kuzma, Kamal (keyboards); Hub, Don Stevens, Jeff "DJ Jazzy Jeff" Townes (bass); Quest Love, Vidal Davis (drums); Garth Trinidad, Eric Roberson, Gene Roberson, Stephanie Renee McNeil, Taalid Johnson (background vocals).